Roof Repair Storm Damage Plano TX
As the saying goes, everything is bigger in Texas—even the storms. Dane Roofing sees a lot of tornado, high wind, severe thunderstorm and hail damage. Roofs take the brunt of damaging forces, so it's essential that your roof can handle the effects of severe weather. We highly suggest getting your roof inspected at least once a year. We will determine if your roof is ready to survive what Mother Nature may throw at it. Our regular roof inspection focuses on these areas:
Shingles
Flashing
Gutters
Plumbing vent boots
Roof vents
Vent caps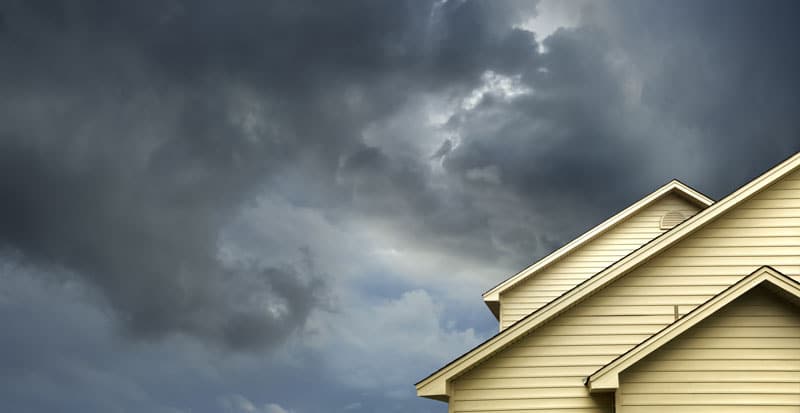 After an inspection, our roof expert may point out holes made from satellite dishes or exposed roofing nails, as those things can compromise a roof too.
About Wind, Water & Hail Damage
Even if your roof is new, it is not immune to storm damage. If you have damage, you will have to alert your insurance company. The best and safest way to diagnose damage is by hiring a roofing contractor. Contact Dane Roofing to set up an appointment as soon as a major storm has passed. We will check for:
Debris
Broken or missing shingles
Cracked roof vents
Loose flashing
Vent cap dented or cracked
Other problem areas
Along with heavy rain and hail, high winds can destroy even the most durable roofing system. We will inspect the ridge line, corners and edges of the roof, which are the most susceptible. We'll look at the condition of exhaust pipes, fascia, valleys and shingles. Higher winds can send large branches or even entire trees onto your roof. Smaller branches can present issues as well.
Shingles are the first line of defense against the elements and receive the brunt of a storm's damage. Shingles that experience wind damage can be:
Ripped
Lifted
Missing
Cracked
When the wind finds an opening, it can curl or rip your shingles off. Lifting causes roof nails to loosen and rise upwards, which can break the sealant between layers. This is caused by the suction effect high winds create when passing over a roof. Dane Roofing has seen entire roofs blown off a house or commercial building from radical shifts in air pressure during a storm! Here are a few tips to help prevent that from happening to you:
Do not open windows before a storm.
Add roof clips.
Seal your roof properly.
Regularly maintain your roof.
Install windproof sheathing.
Ensure the roof is up to code.
Dane Roofing would be happy to help establish preventive measures for you. Simply contact us to schedule a time.
Quick Response Is Key
Because a damaged roof can cause more problems down the road when left unaddressed, swift action by the homeowner is advised. After a storm, Dane Roofing is on high alert and ready to respond to emergency calls. We will quickly respond, assess the damage and begin repair. However, it's vitally important for a homeowner to immediately contact their insurance to ensure any repair work is covered.
Texas sees a large number of wind and hail damage claims being filed each year. Before you sign a homeowner's policy, taking time to learn included limitations can prove highly beneficial.
"Cosmetic roof exclusions" are a part of some policies, which allows the insurance provider to withhold payment on damage they deem "cosmetic." An example would be trying to repair roofing with dents. They may come back saying because it doesn't limit the functionality of the roof, the homeowner will have to pay for it.
Appraisal limits may also be used during the claims process, which excludes damage found after the first inspection. The end result is a nullification of the appraisal clause in the policy. This may release the insurance provider from responsibility with a claim that the damage is more from age than weather elements.
After a homeowner carefully considers these situations and determines a claim is warranted, they should take the following steps to file a claim:
Contact the insurance company to find out what's covered.
Provide "before" and "after" pictures, if available.
Schedule a review by a claim examiner.
Seek a qualified roofer.
Worthy of Your Trust
Since the Dallas-Fort Worth area gets so many severe storms, there are a lot of storm damage "experts" out there. They're easy to find but may not be the right professionals for the job. A trustworthy roofing company should possess these qualities:
Excellent quality
Exceptional customer service
Integrity
A good reputation
The professionals at Dane Roofing are your honest storm damage experts who have the experience and fine reputation you are looking for. We have been active in the Dallas/Ft. Worth area for two decades, and owner Kelly Dane knows that having a personal conversation with the customer is the best way to win their trust.
Contact Us Today
If your home has suffered wind, rain, tree or hail damage from a storm, contact Dane Roofing at (469) 585-3263 or submit our online contact form for a prompt response.