Roof Replacement Services in Plano, TX
Since 2003, Dane Roofing has been providing roof replacement to the residents of Plano, Texas and the surrounding communities.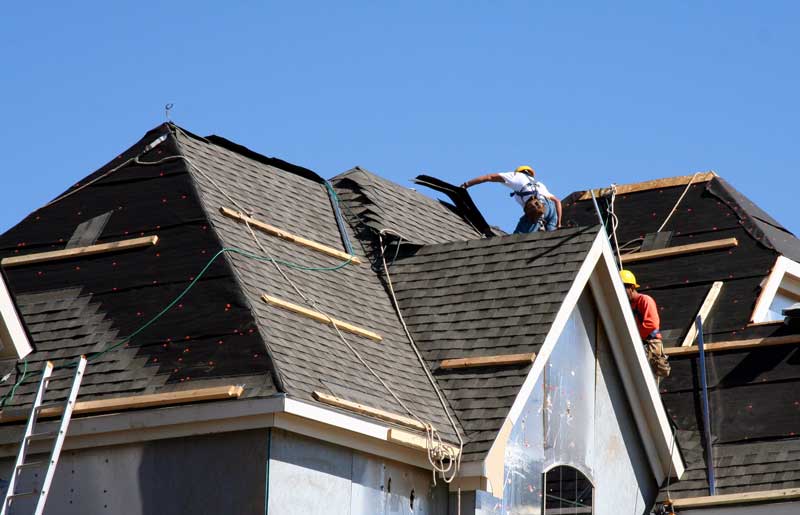 In a perfect world, a house wouldn't have any problems over the course of a residents' lifetime. But realistically, the opposite tends to occur, and usually at an inopportune time.
Skilled roofers are well suited to alleviate any concerns and help people move forward confidently.
Read on and become a believer.
Roof Replacement Options for Homeowners
It's wise to hire a roof inspector, even for those who are unsure if they need this service. Most people only employ one of these individuals when it's time to buy or sell a home, but a roof inspector can give an idea of the overall condition of the roof at any time.
Is re-roofing a good idea?
Re-roofing Shingle Replacement Vs. Leaving Them
Leaving the old shingles in place will minimize:
Disposal expense
Mess
Removal costs
Because of extreme weather, additional advantages for Texans include an extra barrier against leakage and added insulation.
On the other hand, removing old shingles and starting from scratch will give the roofer an opportunity to examine the sheathing for water damage or roof leaks. A new roof deck ensures roof shingles will be firmly attached and lay flat.
Leaving Shingles and Re-roofing Risk
Roofs are only designed to carry a certain load. With each layer of shingles added, this weight increases the overall load on the structure.
This type of quicker fix will also not provide the most pristine look. There may be some coloration differences between old and new tiles. Stylistic differences may also be present depending on the quality of replacement materials chosen.
A Final Word on Re-roofing
Depending on the location, homeowners may be allowed one, two, or three roofs. The rules are based on the strength of the roof structure, and a call to the local building department will answer whether or not it's even an option. If they give the go ahead, the surface being worked on needs to be sound.
Because the roof is essential to the overall integrity of one's home, it's recommended to hire a professional, licensed roofer for this type of project. Personal safety and performing the work to code is indispensable and must take precedence over budget concerns.
Timeline and What's Included in a Roof Replacement
Once a decision is made to move forward, a homeowner can find it difficult to determine the first step to take. Because this type of job will include a significant financial investment, it's important to have an understanding of what the whole process will look like ahead of time.
What is the process of roof replacement?
Hire a Great Roofing Company
Trusting an unlicensed or uninsured roofing company can create complications. Especially here in Texas, after a good storm certain companies will send out staff to knock on the doors of affected areas.
Homeowners want:
Peace of mind
Wide variety of roofing options
Exceptional customer service
Dane Roofing's contractors are licensed and insured. They understand what homeowners desire in a roofing company, and the integrity championed by its founder matches well to those desires.
Choose Roofing Materials
The goal is to complement a home's architecture while staying on budget, and a solid roofing contractor will help choose the right roofing materials to accomplish this. Depending on the type of roof, there may be some slight variation in their recommendations, but most will offer similar material lists.
Removing and Inspecting the Old Roof
Any sub-roof, old roof felt, and shingles will need to be removed. This is a messy and loud process, and it will require the homeowner to take steps ahead of time to protect their other property. For more information, there's a helpful list on what to expect. An inspection by the contractor will ensure it's ready to receive the new roofing.
Installing the New Roof
New roof felt will be installed to protect against water. This all-important step will set a solid foundation for the shingles and other roofing items to be added on to it. Next, the chosen roofing material will be installed. The entire process can take between several days and a week, depending on the size of the project.
Roof Replacement Cost to a Homeowner in Plano
When it comes to quoting a price for a roof replacement, the estimate is a "per square" basis, with a roofing square being 100 square feet.
The per square rate contains all relevant factors:
Labor
Supplies
Any protective elements
Removal of waste
Price of the shingles
According to Home Advisors the average cost of roof replacement in Houston, Texas runs $5730 – $10,545.
This price fluctuates depending on factors like:
Layers
Plumbing pipes, chimneys, skylights
Code requirements
Products and supplies
Pitch
Size
How it's installed on the deck/frame
60% of the project total will go toward labor and overhead, with the remaining 40% for roofing materials.
The price of materials will vary depending on the type of roof, going from $5000- $45,000. The cheapest are asphalt and metal roof replacement, with the most expensive being slate, wood shake, and tile roof replacement.
Don't be surprised if the initial estimate increases once the contractor has a chance to inspect the roof in more detail. The quote might not include the hassles they may run into during the project, such as any extensive roof damage or a problem with the chimney.
A walkabout by the professional will help them determine any possible problems and reassess the quote as needed.
Dane Roofing and Roof Replacement
Kelly Dane and the company he founded 17 years ago continue to proudly serve Plano, Texas. Roofing is something they do right the first time, a major factor in why customers continue to seek them out for future projects.
Although roof replacement as a DIY may save a little money up front, unexpected complications can arise and cause even those who know what they're doing to seek professional help.
Expert contractors will:
Follow proper safety precautions
Ensure the roof replacement timeline stays on schedule
Get the right product for the home
Catch problems early enough to manage
Take steps in the proper order and without delay
Roof replacement cost can be daunting to some people, but the folks at Dane Roofing make it possible for everyone to qualify for this service. They can confidently say this by offering payments to fit every budget, 0% interest for up to 24 months, and no hidden costs.
They begin with a free consultation, walk a customer through each step of the process, and perform the work in a timely and professional manner. Known as the "Dane Roofing Company Experience," it is delivered without fail alongside the personalized roofing plan.
Whether it's flat roof replacement or a host of other options, they specialize in them all.
For a FREE roof inspection call (469) 585-3263.