Roof Leak Repair Plano TX
For 17 years, Dane Roofing has been the premier provider of roof repair for residents of Plano, Texas and the surrounding communities.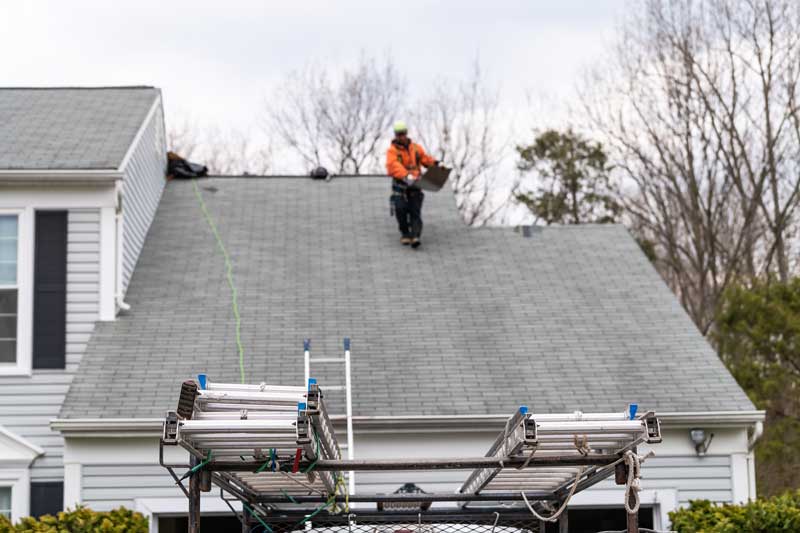 Here in Plano, weather is unpredictable, causing headaches, including roof leaks, for many homeowners.
There are several reasons why a roof may need repair. Before the best course of action can be determined however, there are some common questions that should be asked.
Why DIY Roof Repair in Plano Should Be Avoided
Although roofing expertise requires years of experience, some homeowners decide to go about the fixes themselves.
There are three reasons why this type of work should be left to professionals.
1. Loss of Guarantee on Materials
If a new roof is installed by a non-professional, the warranty on the materials will be voided. Why does this matter? Any future repair or replacement will need to be paid out of pocket.
Besides the materials being covered, another benefit of professional installation is labor will be warrantied as well.
2. Cost May Be Higher in The Long Run
Professional roofers can ascertain problems both on the external and internal surface. DIY folks commonly miss weakness, damage, rotting, and water intrusion.
Getting down to the frame and deck level for an overall assessment is essential to maintaining the ongoing integrity of a structure. Licensed roofers make recommendations on various alternatives, lessening any future costs.
Other reasons to hire a pro:
Selling a home without a roof warranty will raise red flags
Overall beauty on the house will decrease
Many insurance companies only cover professional installation
3. Dangers Abound in Roof Repair
Whether it's combating the weather, walking on sloping surfaces, or negotiating power tools, hazards can quickly multiply on this type of job.
One strength of professional roofers is their ability to spot dangerous situations such as soft spots or loose tiles. Take out the guesswork and invest in an expert!
Best Roof Repair Product on the Market
What is the best roof repair product?
There are many factors to consider when selecting which brand to use such as price, durability, features, and longevity.
Elastomeric Roofing
As an international leader in cool roof coating technology, ERSystems' highly reflective roof coatings are designed for restoration on:
Each of their products can stretch, bend, and twist as the building moves. They offer the most trusted roof repair products for experts like Dane Roofing.
Primers
Regardless of the roof type in need of repair, a primer is generally favored over simply using a base coat. It seals the original material and decreases the required number of coats. When applied to surfaces such as masonry and metal, it allows proper bonding for the paint. An excellent choice for an asphalt roof is Acrylic Asphalt Primer which is highly reflective and offers superior adhesion.
Sealants
Once applied, a sealant is the first line of defense against sun, rain, and ice. Angled roofs can still benefit, but their real power lies in protection for flat roofs. This roof style can collect water and debris quicker, and an extra layer of protection is advisable. H.E.R. provides watertight seals for rust spots, holes, and seams. This roof leak repair sealant has excellent adhesion to a wide variety of surfaces.
Finish Coats
A roof coating can lower energy demand, reflect sunlight, and protect the roof from the elements. Metal roof repair greatly benefits from a finishing coat to complete the restoration. It's recommended to use Polyurethane 300 Finish Coat at this final stage.
As contractors who have been in the roofing industry for a long time, the products Dane Roofing selects must have a long track record of integrity. Dane Roofing strives for their client's complete satisfaction after a roofing repair project and only utilizes products that meet their high standards.
Assessing Whether Roof Repair is all You Need
How do I know when my roof needs more than just repairs?
A homeowner should keep an open mind after a proper manual assessment is performed, and focus on certain key areas.
The Shape of the Shingles
A roof starting to look old and worn may be due for some major repair.
Some visible signs of wear are:
Bald patches
Cracking
Curled up cup-like edges
Moss Growing on the Roof
Possibly hinting at hidden damage, moss growing on or between shingles should be addressed. It absorbs water and prevents it from rolling off the roof into the gutters.
Water damage, mold growth, and breakage of shingles can be the final outcome of ignoring this issue. Periodic inspections by a professional does carry with it the extra benefit of the early detection of underlying problems.
Age of the Roof
The typical durability of roofing types is:
Asphalt (20 years)
Wood shake (30 years)
Slate, copper, clay/concrete (50 years)
Anything over this timeframe stands to benefit from the addition of higher quality materials. Before they're dissuaded by the higher up-front cost, people should know the investment is well worth it because of the decreased need for repairs down the road.
Attic Conditions
Dark stains, water damage, holes or cracks, and sagging could all be signs of a leaking roof. Repair is critical because moisture can damage not only the roof, but also the home's interior structure. Lightly prodding at the areas of concern should reveal whether or not this is the case.
Overall Shape of the Roof
The chimney, sealant, gutters, and nails are other areas where rust and wear can visibly show during a visual roof inspection. Roof flashing repair may also need to be considered, and these areas should not be passed over.
Dane Roofing Repair Experts
Since 2003 Dane Roofing has provided Plano, Texas roof repair under the leadership of Kelly Dane. As a full-service roofing contractor, he personally manages every project.
Roof repair cost is naturally a concern for some people who have real issues at their residence. Offering payments to fit every budget, 0% interest for up to 24 months, and no hidden costs, Kelly makes sure everyone gets the service they deserve.
They pride themselves on:
Excellent quality
Exceptional customer service
Integrity
Proudly serving the Plano and Dallas area, they are known as one of the best Dallas roofing companies. This distinction has been earned through a relentless pursuit of excellence among their staff, and it starts at the top of the company.
Whether it's flat roof repair, rubber roof repair, or any of the alternatives, Dane Roofing specializes in them all.
They begin with a free consultation, walk a customer through each step of the process, and perform the work in a timely and professional manner. Known as the "Dane Roofing Company Experience," it's delivered without fail alongside the personalized roofing plan.
Their staff will come out to determine with accuracy whether the roof could benefit more from repair or replacement.
For a FREE roof inspection call (469) 585-3263.